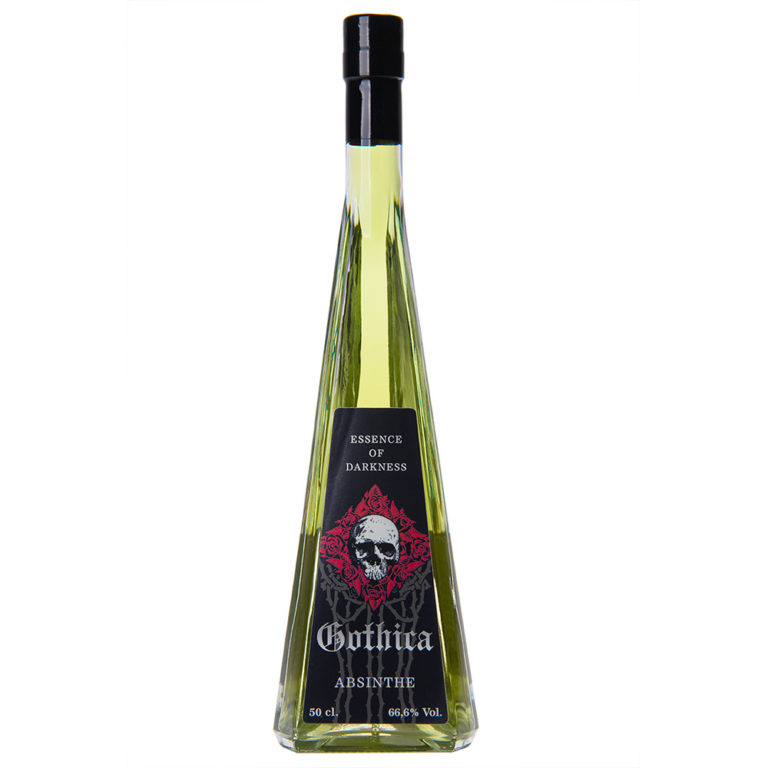 Gothica Absinth ist anders. Er verwendet bewusst keine klassische Rezeptur und will auch nicht mit traditionellem französischem Absinth verglichen werden. Warum? Weil sich Gothica Absinth etwas Neuem zuwendet, einer neuen Dimension der dunklen Welt der Grünen Fee. Wir nennen diesen Absinth deswegen auch die "Essence of Darkness".
Gothica Absinth: So schmeckt er
Gothica Absinth ist trotz seines teuflisch hohen Alkoholgehalts von 66.6% Alkohol angenehm leicht zu trinken. Sein Geschmack ist wermutbetont, kräuterig firsch, dabei aber nicht zu dominant im Anis. Stattdessen schmeckt man lieblich-florale Noten, die auf die Verwendung von Rosenöl zurückzuführen sind. Die Farbe des Absinths ist gift-grün. Sie ist jedoch natürlich und basiert auf dem Pflanzenfarbstoff Chlorophyll. Bei Zugabe von Wasser trübt Gothica Absinth wie von Geisterhand in ein opalisierendes unschuldiges Weiß. Ein eindrucksvolles Schauspiel, das Lust auf den ersten verführerischen Schluck der Essence of Darkness macht.
Wegen des hohen Alkoholgehalts von 66.6% sollte Gothica Absinth nur in Maßen genossen werden. Dieser Absinth ist nichts für schwache Gemüter, trinke ihn niemals als Shot!
Fakten
HERKUNFTSLAND:
Österreich
ALKOHOL:
66.6 % vol.
INHALT:
0.5 l 
FARBE:
Helles Grün
ENTHÄLT FARBSTOFF:
Ja (Chlorophyll)
VERKEHRSBEZEICHNUNG:
Spirituose
LEBENSMITTELUNTERNEHMER:
ALANDIA GmbH & Co KG, Bismarckstrasse 49, 50672 Köln
TASTING NOTES:
Aromatisch wermutig mit einer verführerischen Note von Rosenblüten
Online kaufen
Absinthe Gothica: How to serve it with a skull glass