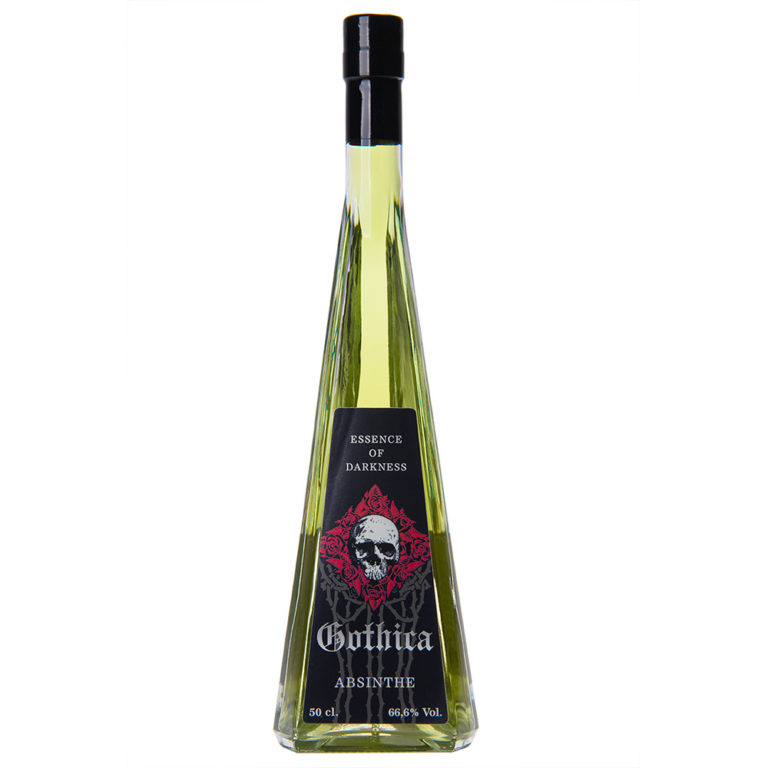 Gothica Absinthe is different. It deliberately does not use a classic recipe and does not want to be compared with traditional French Absinthe. Why? Because Gothica Absinthe turns to something new, a new dimension of the dark world of the Green Fairy. That's why we call this Absinthe the "Essence of Darkness". Gothica Absinthe is pleasantly easy to drink despite its devilishly high alcohol content of 66.6% alcohol. Its taste is wermutbetont, herbaceous firsch, but not too dominant in the anise. Instead, one tastes lovely floral notes, which are due to the use of rose oil. The color of the Absinthe is poison-green. However, it is natural and based on the plant pigment chlorophyll. When water is added, Gothica Absinthe clouds into an opalescent innocent white as if by magic. An impressive spectacle that makes you want to take that first seductive sip of Essence of Darkness.
Gothica Absinthe Tasting Notes
Due to the high alcohol content of 66.6% (133.2 proof), Gothica Absinthe should only be enjoyed in moderation. This Absinthe is not for the faint of heart, never drink it as a shot!
Facts
| | |
| --- | --- |
| COUNTRY OF ORIGIN: | Austria |
| ALCOHOL: | 66.6% vol. |
| CONTENT: | 0.5 l / 16.9 oz |
| COLOR: | Dark Green |
| CONTAINS COLORINGS: | Yes (Chlorophyll) |
| SALES DENOMINATION: | Spirit |
| FOOD BUSINESS OPERATOR: | ALANDIA GmbH & Co KG, Bismarckstrasse 49, 50672 Köln |
| TASTING NOTES: | Various herbs and spices create a complex, seductive aroma with notes of roses |
Buy online
Absinthe Gothica: How to serve it with a skull glass