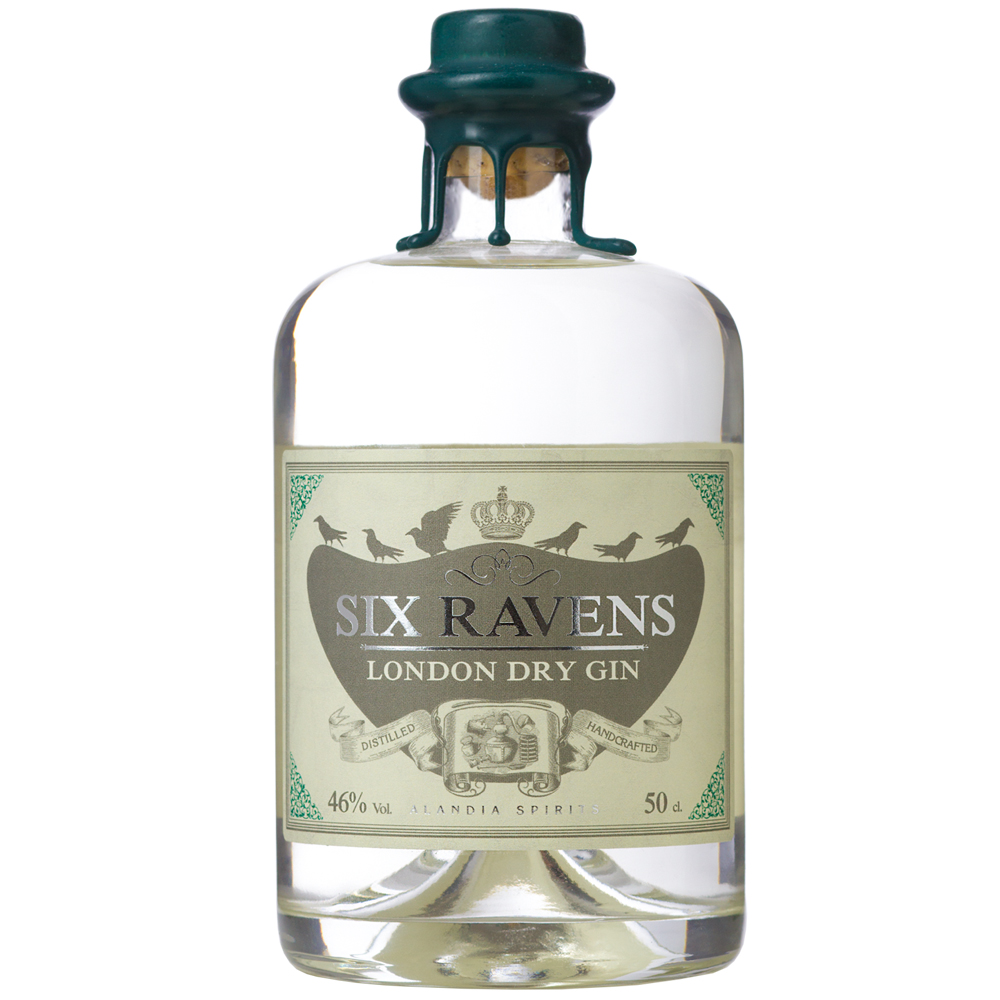 Unter Anwendung der London Dry Gin Tradition wird Six Ravens Gin ausschließlich aus der Destillation ausgewählter Botanicals gewonnen. Weder Zucker noch sonstige Aromen werden dem Destillat nachträglich zugesetzt. Die Rezeptur von Six Ravens London Dry Gin ist auf Individualität und Geschmack ausgelegt. Neben klassischen Botanicals wie Koriandersamen, Angelica und Zitronenschalen erhält Six Ravens seinen einzigartigen Charakter durch die Destillation frischer Ingwerwurzeln. Die fruchtige, jedoch gleichzeitig herbe Note des Ingwers harmoniert nicht nur perfekt mit der typisch würzigen Note des Wacholders, sondern vereint sich darüber hinaus besonders gut mit den leicht bitteren Aromen eines Tonic Wassers. Hierdurch qualifiziert sich Six Ravens London Dry Gin als perfekter Gin für einen Gin & Tonic. 
Auch der Alkoholgehalt unterstützt den Genuss von Six Ravens mit Tonic. Mit 46% fällt dieser etwas höher aus, um den individuellen Geschmack des Gins im Longdrink zu erhalten. Wir empfehlen die Zubereitung mit einer Zitronenzeste.
Die Legende der Six Ravens
"Sire, if the Tower of London ravens are lost, the Crown will fall and Britain with it!"
Am 22 Juni 1675 eröffnete König Charles II das königliche Observatorium am Tower von London. Doch schon kurze Zeit später erreichte den König eine Beschwerde: Der Astronom des Hofes, John Flamsteed, sah sich bei seiner Arbeit durch die am Tower beheimateten wilden Raben behindert und forderte – ganz im Dienste der Wissenschaft – deren umgehende Vertreibung. Zunächst war König Charles der Forderung nicht abgeneigt, jedoch riet ihm sein Berater dringlichst davon ab. Die Raben gehören zum Tower wie die Krone zu England. Eine Vertreibung der Raben würde auch den Untergang des Königreichs bedeuten! 
Ganz entsetzt von dieser Warnung änderte Charles II seine Meinung. Er verordnete, dass von nun an immer sicherzustellen sei, dass mindestens sechs Raben am Tower von London anwesend sind. Dies habe der "Raven Master" zu gewährleisten. Das Observatorium selber wurde nach Greenwich vor die Tore Londons verlegt. Von diesem Tage an wurden die Raben des Towers wie Könige behandelt: Umsorgt von Bediensteten, finanziert durch öffentliche Gelder und geehrt in großem Glanze – hoffnungsgetrieben, dass sich die Prophezeiung niemals bewahrheiten wird…
Fakten
HERKUNFTSLAND:
Frankreich
ALKOHOL:
46% vol.
INHALT:
0.5 l und 0.04 l
FARBE:
Kristallklar
ENTHÄLT FARBSTOFF:
Nein
VERKEHRSBEZEICHNUNG:
Gin
LEBENSMITTELUNTERNEHMER:
ALANDIA GmbH & Co KG, Bismarckstrasse 49, 50672 Köln
TASTING NOTES:
Geschmackvoller Gin mit fruchtig würziger Ingwernote
Online kaufen
How to mix a Gin & Tonic with Six Ravens Gin