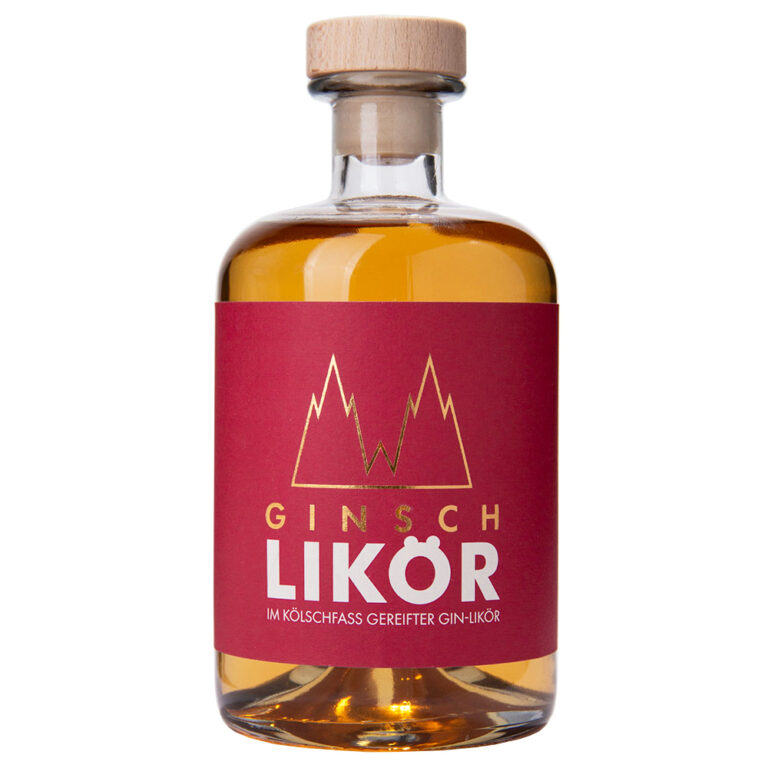 Ginsch is a gin liqueur aged in a Kölsch beer barrel. It is produced in an innovative process, completely without artificial flavors or other artificial additives. It is based on the barrel-aging process familiar from whiskey, rum or cognac.
We first store Kölsch beer from Cologne in a wooden barrel. During storage, the staves of the barrel absorb the Kölsch aromas. After several months of aging, the barrel is emptied and filled with gin. For this we do not use a conventional gin, we distill it from juniper and the typical ingredients of a Kölsch: Hops and malt. The gin then matures in the barrel. Through this, it takes on flavor and its natural golden color. In the final step, the barrel-aged gin is adjusted to drinking strength and made into a gin liqueur.
Ginsch Drinking Recommendation
Ginsch is malty-sweet in taste with tart notes of juniper and delicate wooden notes of the barrel. It is drunk neat, preferably iced. At 30% alc. by vol (60 proof), it is a pleasantly strong liqueur.
If you like, you can serve Ginsch as well as a highball or cocktail. Here are the recipes.
Cologne Mule:
50 ml Ginsch
10 ml Lemon Juice
300 ml Ginger Beer
Serve with ice cubes, slices of cucumber and lemon


Cologne Negroni:
30 ml Ginsch
30 ml Campari
30 ml Vermouth (red or white)
Serve with ice cubes and lemon
 
Ginsch Sour:
40 ml Ginsch
20 ml Lemon Juice
10 ml Agave Syrup
Pour into a shaker with ice cubes. Shake for about 30 seconds. Strain contents into a glass filled with ice. Serve with a slice of lemon
Facts
COUNTRY OF ORIGIN:
Germany
ALCOHOL:
16% vol.
CONTENT:
0.5 l / 16.9 fl.oz.
COLOR:
Gold
CONTAINS COLORINGS:
No
SALES DENOMINATION:
Gin-Liqueur
FOOD BUSINESS OPERATOR:
ALANDIA GmbH & Co KG, Bismarckstrasse 49, 50672 Cologne
TASTING NOTES:
Ginsch has a malty sweet taste with tart notes of juniper.
Buy online