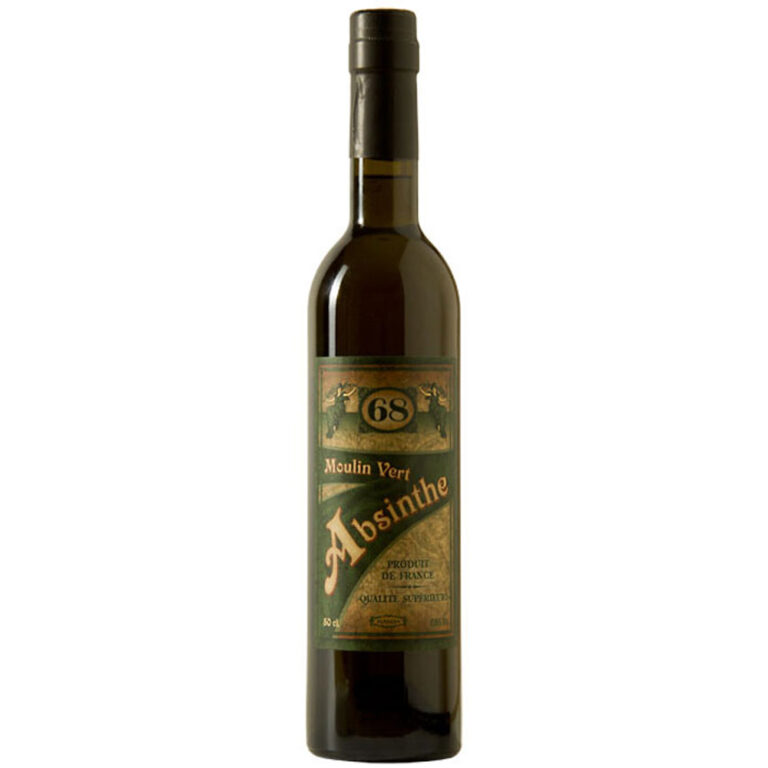 Moulin Vert is as the name suggests a green Absinthe. It is made in France according to a traditional recipe. Of course, no artificial additives find their way into this Absinthe. Neither artificial flavors, essences or artificial colors. Its beautiful green color is solely due to the use of coloring herbs such as hyssop and Artemisia Pontica. The alcohol content is a traditional 68%. At this high content, the Absinthe develops its full aroma and the natural green color is best preserved. When ice water is added, Moulin Vert clouds into a dense milky white, indicating the high essential oil content. We recommend preparing Moulin Vert with 1-2 sugar cubes. This brings the complexity of the Absinthe to perfection with a touch of lovely sweetness.
Moulin Vert Absinthe with wine alcohol
Overall, Moulin Vert is a strong, fresh Absinthe with a slightly bitter top note (wormwood) and aromas of cognac and dark chocolate on the finish. The cognac notes are due to the use of wine alcohol. This high-quality alcohol serves as the basis for the distillation of the herbs. The use of wine alcohol was already a feature of particularly high-quality Absinthe varieties in historical times. In addition to rounding out the taste, it also ensures that the Absinthe gains in complexity over time through progressive storage. so definitely an argument to put a bottle on reserve in the cellar.
Facts
| | |
| --- | --- |
| COUNTRY OF ORIGIN: | France |
| ALCOHOL: | 68% vol. |
| CONTENT: | 0.5 l and 0.05 l / 16.9 oz and 1.36 oz |
| COLOR: | Green |
| CONTAINS COLORINGS: | No |
| SALES DENOMINATION: | Spirit |
| FOOD BUSINESS OPERATOR: | ALANDIA GmbH & Co KG, Bismarckstrasse 49, 50672 Köln |
| TASTING NOTES: | Substantially herbal, with a slight bitterness and notes of Cognac and dark chocolate |
Buy online
Absinthe Moulin Vert: Green Absinthe distilled with wine alcohol