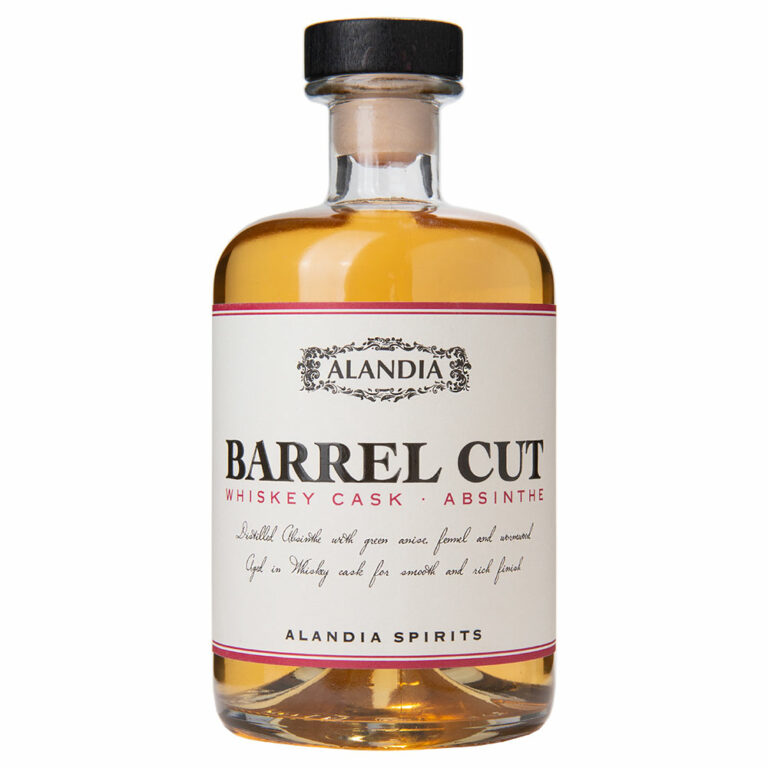 ALANDIA Barrel Cut Edition combines the best of two worlds. Real premium Absinthe with the complex notes of a barrel-aged Whiskey. To accomplish this, we first distill an Absinthe from wormwood, green anise and fennel and then store it for several months in an American Bourbon cask. Through this process, the Absinthe develops flavor and color. 
The recipe of the Absinthe is intentionally simple. We focus on the three traditional herbs of real Absinthe, as more complex flavors are added by the cask.
Absinthe Barrel Cut Drinking Recommendation
The alcohol strength at 42% (84 proof) is chosen to be a little lower. Because we recommend Barrel Cut Absinthe to be served neat or on ice. This means without water and without sugar, just like a Whiskey. Therefore, Barrel Cut is not a conventional Absinthe, it is a new category: A ready-to-drink, barrel-aged Absinthe to sip.
Facts
COUNTRY OF ORIGIN:
Germany
ALCOHOL:
42% vol.
CONTENT:
0.5 l / 16.9 fl.oz.
COLOR:
Amber
CONTAINS COLORINGS:
No
SALES DENOMINATION:
Spirit
FOOD BUSINESS OPERATOR:
ALANDIA GmbH & Co KG, Bismarckstrasse 49, 50672 Cologne
TASTING NOTES:
Smooth Absinthe with vanilla whiskey notes
Buy online