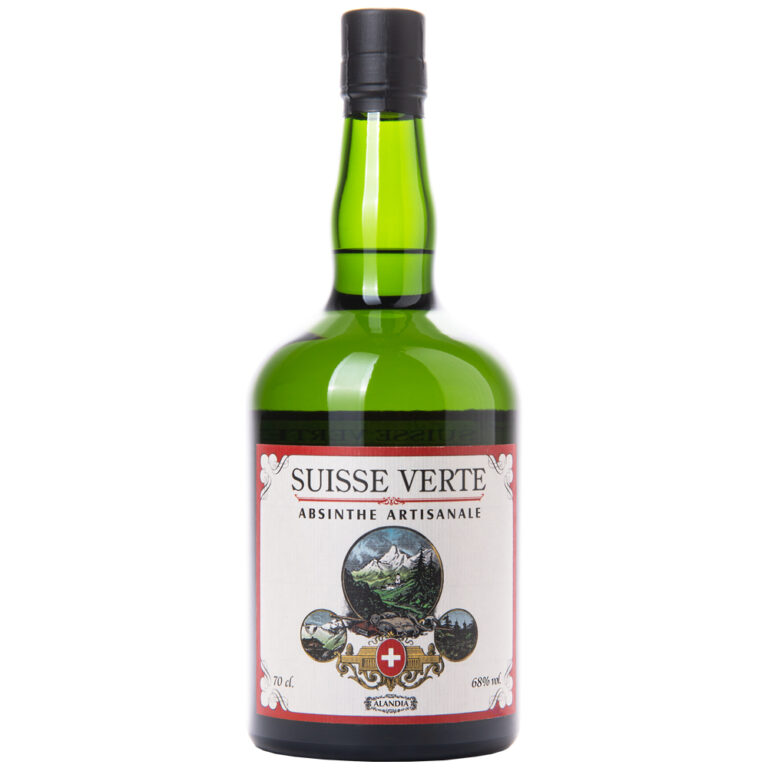 Suisse Verte is an authentic green Absinthe from Switzerland. Its green color is based purely naturally on selected coloring herbs, which are macerated with the Absinthe after distillation. Just as it should be for a high-quality Absinthe committed to tradition. The taste is wonderfully buoyant fresh. One can taste the quality of the Swiss herbs and is reminded of lush mountain meadows. A total of 9 herbs are part of the recipe. Among others, wormwood, anise, fennel, lemon balm and hyssop. The alcohol content is a classic 68%. With this high alcohol content, the natural green color is well preserved. In addition, the Absinthe is bottled in a dark bottle to protect the contents from harmful UV light.
Absinthe Suisse Verte Louche
Suisse Verte clouds intensely when water is added, indicating a high content of essential oils in the distillate. In addition, the dense greenish-white cloudiness is particularly beautiful to look at in the glass. All in all, Absinthe Suisse Verte is a true premium product that leaves nothing to be desired. We are sure that you will also like this Absinthe. We can recommend it to Absinthe novices and connoisseurs alike. Because this Absinthe is one of our absolute favorites because of its lively fresh taste!
Facts
| | |
| --- | --- |
| COUNTRY OF ORIGIN: | Switzerland |
| ALCOHOL: | 68% vol. |
| CONTENT: | 0.7 l / 23.67 oz |
| COLOR: | Green |
| CONTAINS COLORINGS: | No |
| SALES DENOMINATION: | Spirit |
| FOOD BUSINESS OPERATOR: | ALANDIA GmbH & Co KG, Bismarckstrasse 49, 50672 Köln |
| TASTING NOTES: | Fresh and crisp green taste |
Buy online
Absinthe Suisse Verte: Green Absinthe from Switzerland