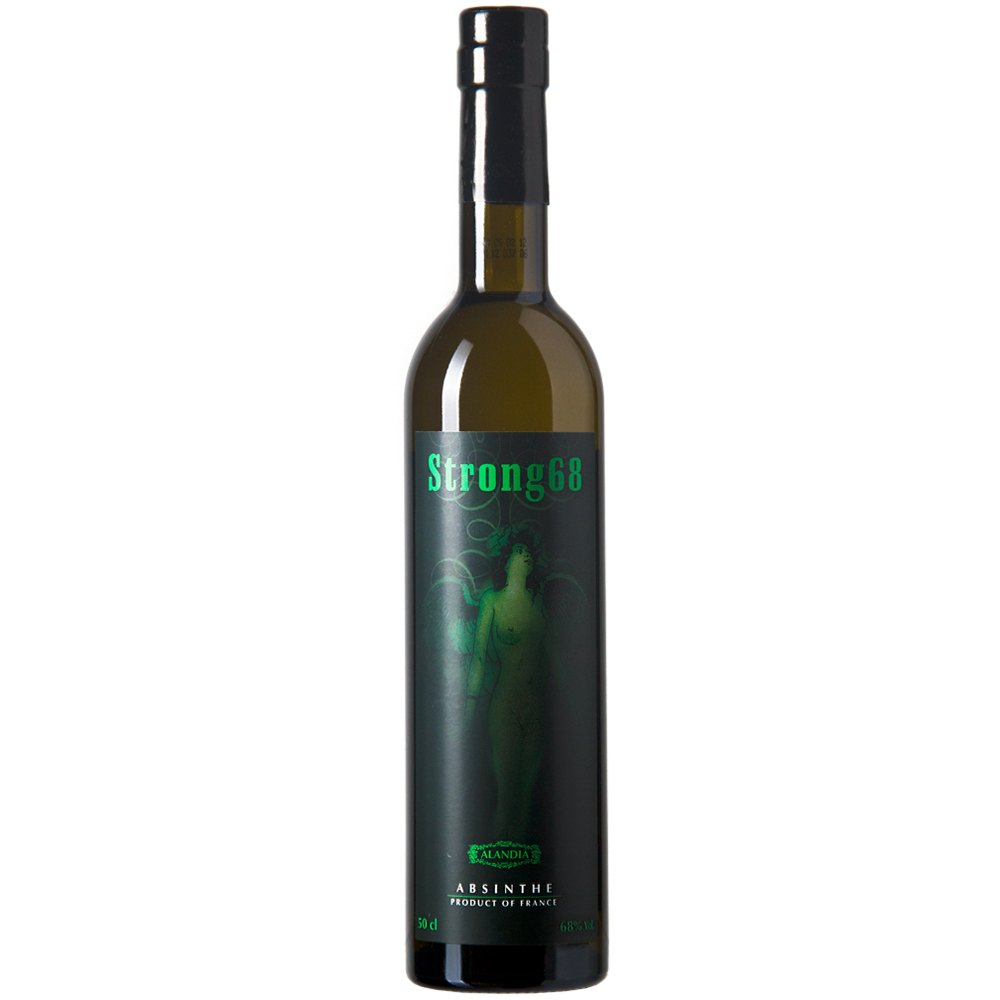 Absinthe Strong68 is particularly suitable for those Absintheurs who are looking for an Absinthe with a classic recipe and production method. The wormwood in the recipe provides a slightly bitter, pleasantly strong taste of the drink. Strong68 has strong 68% alcohol by volume. That is why we recommend drinking it with one or two sugar cubes according to the traditional Absinthe ritual. The green color of Absinthe Strong68 is based solely on coloring herbs, no artificial coloring is used. This is how it was in the 19th century and this is how it should be in a classic Absinthe today. In addition, Strong68 is a high quality distillate, which makes it stand out from macerated Absinthes in terms of quality and taste.
Absinthe Strong68: The History
In France, Absinthe Strong68 is produced at a family distillery with a history of over 150 years. Absinthe was already produced here in the 19th century. Thus, profound experience in Absinthe production can be drawn upon. The wormwood for the Absinthe is grown locally in the fields of the distillery and harvested and dried in the traditional way. This guarantees the highest quality and authenticity for Strong68. With its 68% percent alcohol by vol. Strong68 has the classic alcohol content of historical originals. This high alcohol content is necessary, among other things, to stabilize the green color of the Absinthe. At this point we would like to point out that Absinthe is not a hallucinogenic drug. You will not see pink elephants (sorry). However, the consumption of Strong68 should be done responsibly against the background of the high alcohol content of 68%.
Facts
| | |
| --- | --- |
| COUNTRY OF ORIGIN: | France |
| ALCOHOL: | 68% vol. |
| CONTENT: | 0.5 l / 16.9 oz |
| COLOR: | Green |
| CONTAINS COLORINGS: | No |
| SALES DENOMINATION: | Spirit |
| FOOD BUSINESS OPERATOR: | ALANDIA GmbH & Co. KG, Bismarckstr. 49, 50672 Köln |
| TASTING NOTES: | Fresh and herbal taste with a slight bitterness |
Buy online
Absinthe Strong68: Real Absinthe made with wormwood