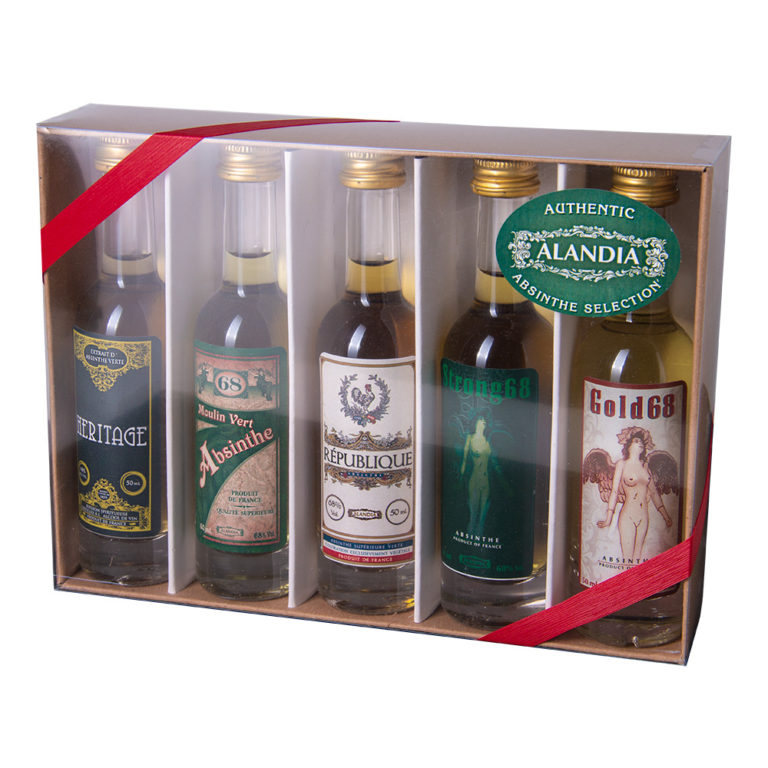 Absinthe Tasting? With our Absinthe Miniatures Set you can experience or taste the diversity of the world of Absinthe. The set contains five different Absinthes, which taste quite different from each other. So you can get to know the complexity of the world of Absinthe particularly well (closer). From traditional Absinthe to modern Absinthe, everything is included. On the back of the packaging are tasting notes for each Absinthe, so that you have a taste orientation when tasting. Due to the noble and varied content as well as the also beautifully designed packaging, this Absinthe set is also a great gift for any occasion. These Absinthes are included in the set: Absinthe Heritage Verte is a strong French Absinthe. It is the most classic Absinthe of the set, so we also recommend starting with this Absinthe. In a way, it sets the reference for the other varieties. The recipe is based on anise, fennel and wormwood. In addition, a few more herbs and seeds are part of the recipe, but taste-wise, the first-mentioned ingredients are in the foreground. As soon as you open the bottle, you notice these herbs with their freshness. In the glass, diluted with water, the first thing you notice is the dense turbidity. This is due to the high content of essential oils in Absinthe. On the tongue, one tastes the slightly bitter notes of wormwood. They harmonize wonderfully with the natural sweetness of the anise and fennel. In the finish, one tastes a slight cognac note, which is due to the wine alcohol base of the Absinthe.
These Absinthes are in the Set
Moulin Vert is also a classic Absinthe. However, unlike Heritage Verte, it has a slightly edgier recipe. The top note is wormwood accented with a slightly tart note (wormwood). In the finish, however, one recognizes slight cognac notes here as well. This is because Moulin Vert also uses wine alcohol as the base for distillation. Republique Vintage is distilled with coriander seeds. This gives it a pleasant herbal spiciness. Overall, the recipe of the Absinthe was chosen to resemble a matured vintage Absinthe in taste. That is, it is less tangy-fresh, but rather imposing-majestic in taste. Strong68 is especially suitable for those Absintheurs who are looking for a real Absinthe with increased wormwood content. Strong68 is a distilled Absinthe colored green exclusively with coloring herbs (no dye). The extra portion of wormwood provides a slightly bitter taste to the drink. Strong68 Absinthe is our absolute best seller. Gold68 is the most modern Absinthe of the set, because it has no anise. Rather, it is made with lemon and orange peels to give it flavorful body and character even without anise. But here, too, the wormwood is in the foreground. Slightly bitter, it makes itself felt.
Facts
| | |
| --- | --- |
| COUNTRY OF ORIGIN: | France |
| ALCOHOL: | 68% vol. |
| CONTENT: | 0.25 l / 8.8 oz (5x 1.36 oz) |
| COLOR: | Green |
| CONTAINS COLORINGS: | No |
| SALES DENOMINATION: | Spirit |
| FOOD BUSINESS OPERATOR: | ALANDIA GmbH & Co KG, Bismarckstrasse 49, 50672 Köln |
| TASTING NOTES: | From slightly bitter to citrusy fresh, the Absinthe sample set has it all! |
Buy online
Absinth Zubereitung ➔So geht das Ritual aus dem 19. Jh