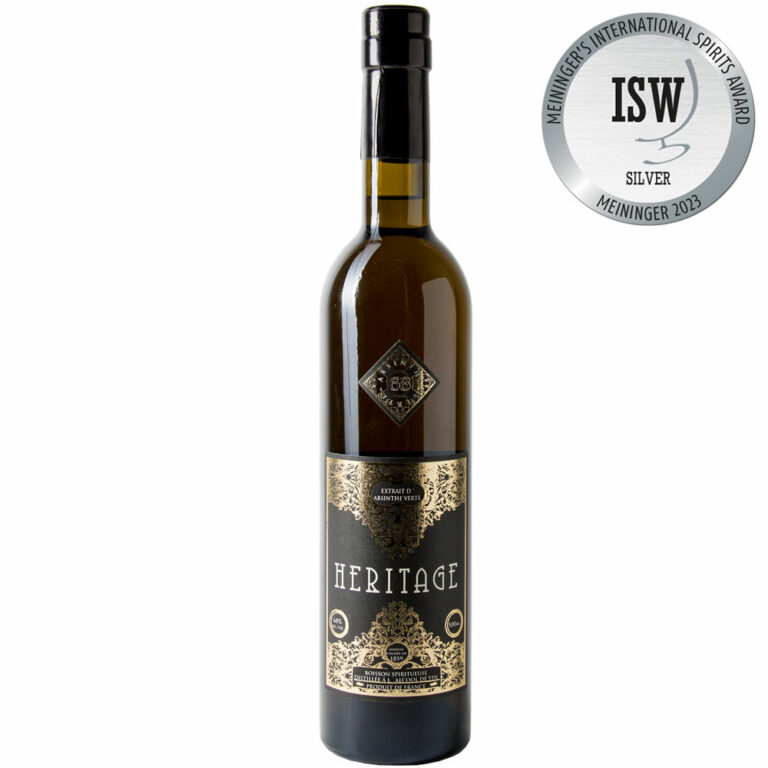 The award-winning Absinthe Heritage Verte is distilled in France on the basis of wine alcohol. Distillation takes place on copper stills of the family business Paul Devoille, founded in 1859. Devoille already produced Absinthe in the times of the Belle Époque and still grows the wormwood for his Absinthe himself. This guarantees particularly high quality. The herbal composition of Heritage Verte is based on the classic trinity of an authentic Absinthe: Wormwood, green anise and fennel. A few more secret herbs are used, but Absinthe Heritage Verte stands out for its concentration on the essentials. And you can taste that. From the very first opening of the bottle, the Absinthe exudes a seductive, dense herbal aroma. One notices immediately that no herbs were spared during distillation.
French Absinthe Pre-Ban Style
In the glass, Heritage Verte impresses with a dark amber green. One speaks here also of the color "Feuilles morte". That is, the Absinthe resembles an autumn leaf in color. The slightly darker coloration comes from the storage of the Absinthe. Before bottling, Absinthe Heritage matures for at least 6 months to develop its aromas. Over this time of aging, the initially green chlorophyll changes color to a darker amber hue. Drinking this Absinthe according to the classic ritual of adding cold water to the Absinthe glass, Heritage Verte clouds to a dense, almost creamy white. The first sip reveals the aromatic richness of the herbs used. On the finish, a touch of sweet bitterness rounds out the taste experience.
Since the Absinthe is distilled with wine alcohol, it has a fruity cognac note. All in all, Heritage Verte is a particularly high-quality Absinthe, reminiscent of the originals from the 19th century.
Facts
| | |
| --- | --- |
| COUNTRY OF ORIGIN: | France |
| ALCOHOL: | 68% vol. |
| CONTENT: | 0.5 l and 0.05 l  / 16.9 oz and 1.36 oz |
| COLOR: | Amber |
| CONTAINS COLORINGS: | No |
| SALES DENOMINATION: | Spirit |
| FOOD BUSINESS OPERATOR: | ALANDIA GmbH & Co KG, Bismarckstrasse 49, 50672 Köln |
| TASTING NOTES: | Wormwood, anise, and fennel, with a relaxing yet bittersweet headiness and Cognac notes in the background (Heritage Verte is distilled with wine alcohol) |
Buy online
Serving Absinthe: Heritage Verte with a see-saw dripper