Absinthe Hamlet Hardcore Black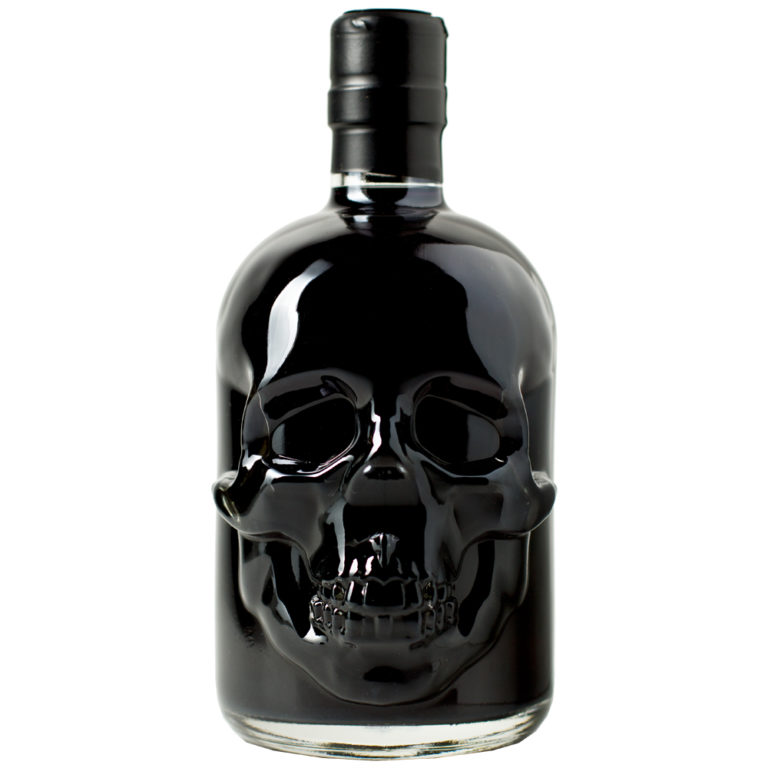 Absinthe Hamlet Black is made for those Absintheurs who are looking for a particularly unusual Absinthe. The black color of the Absinthe, the skull bottle as well as the high alcohol content of 69% underline the extravagance of the Absinthe. In terms of taste, Hamlet Black is surprisingly mild despite its strong wormwood and alcohol content. This is based on the fact that in addition to anise, vanilla and some cinnamon are also used in the recipe. This provides a soft, slightly sweet taste.
Black Absinthe in Skull bottle
When ice-cold water is added, Hamlet Black clouds into a dense white, which is also an impressive spectacle. Of course, the unusual packaging of Hamlet Absinthe should also be highlighted. The skull looks particularly real and creepy. After use, the bottle can be reused (up-cycled). It is suitable for example as a fancy oil or vinegar dispenser or creepy flower vase. The name of the Absinthe refers to the famous tragedy by William Shakespeare. It tells the story of Prince Hamlet, who takes revenge on his uncle for the murder of his father. The gravedigger scene is world famous, in which Hamlet ponders the transience of life in the face of an exhumed skull. To be or not to be, that remains the unanswered question….
Facts
| | |
| --- | --- |
| COUNTRY OF ORIGIN: | Austria |
| ALCOHOL: | 69% vol. |
| CONTENT: | 0.5 l / 16.9 oz |
| COLOR: | Black |
| CONTAINS COLORINGS: | Yes |
| SALES DENOMINATION: | Spirit |
| FOOD BUSINESS OPERATOR: | ALANDIA GmbH & Co KG, Bismarckstrasse 49, 50672 Köln |
| TASTING NOTES: | Although this black Absinthe is 138 proof the taste is pleasantly sweet with notes of vanilla and cinnamon |
Buy online
Absinthe Hamlet Hardcore: Black Absinthe with wormwood (artemisia absinthium)