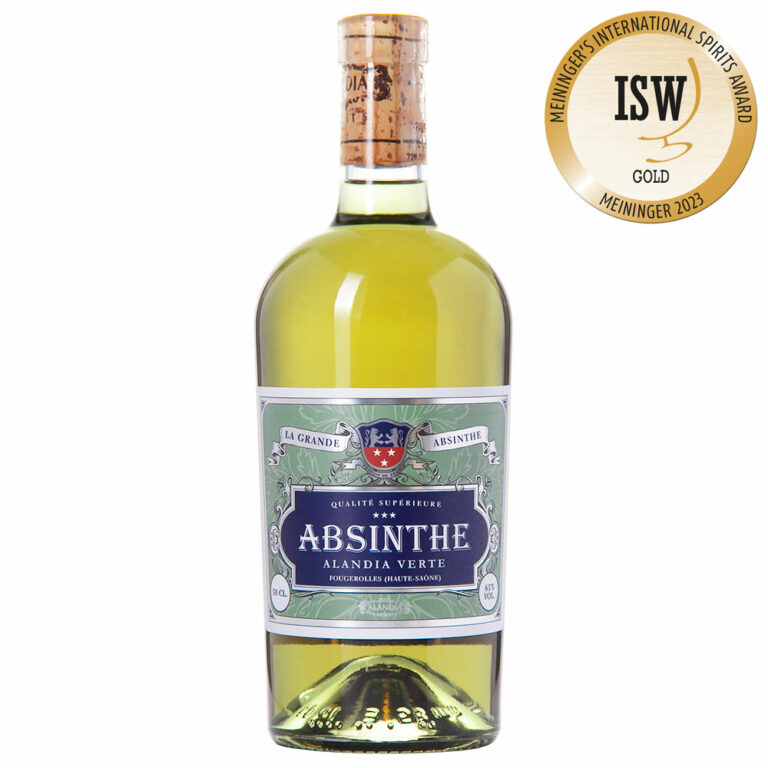 ALANDIA Verte is an award-winning, traditional green Absinthe from France. It is distilled in Fougerolles in a family-run distillery dating back to 1859. The recipe focuses primarily on the iconic ingredient of Absinthe: the great wormwood (artemisia absinthium), also known as "La Grande Absinthe". The plants are grown locally in the distillery's fields, which guarantees high quality. In addition, all other processes of processing are based on the traditions of the 19th century: As in ancient times, the harvest is done by hand and the branches of wormwood are then dried for several months in a dark but sun-exposed wooden hut, the so-called "Séchoir". The final production process is also faithful to the original. The distillation takes place on a large copper pot.
The recipe of ALANDIA Verte is based on a good portion of wormwood (artemisia absinthium) and is enriched with other traditional herbs such as green anise, fennel and the artemisia species genepi. After distillation, the initially crystal clear distillate is macerated with selected coloring herbs. They give ALANDIA Verte its natural green color. Since direct sunlight would affect the natural green color of ALANDIA Verte, each bottle is wrapped in paper. After opening, the bottle should be stored in a dark place and preferably re-wrapped in the paper.
Original Absinthe ALANDIA Verte
We recommend ALANDIA Verte to both beginners and connoisseurs. Beginners will greatly appreciate the fresh, balanced taste of this Absinthe. Experienced Absintheurs can focus their concentration on the individual components of the Absinthe: Fresh notes of green anise and some fennel combined with slightly grassy tones of Genepi, all ending in the floral seductive taste of wormwood.
Facts
| | |
| --- | --- |
| COUNTRY OF ORIGIN: | France |
| ALCOHOL: | 65% vol. |
| CONTENT: | 0.5 l / 16.9 oz |
| COLOR: | Natural Green |
| CONTAINS COLORINGS: | No |
| SALES DENOMINATION: | Spirit |
| FOOD BUSINESS OPERATOR: | ALANDIA GmbH & Co. KG, Bismarckstrasse 49, 50672 Köln |
| TASTING NOTES: | Smooth and balanced Absinthe with a focus on Absinthes iconic ingredient, wormwood |
Buy online
Original Green Absinthe: ALANDIA Verte